Race determinants of wage gaps in Colombia
Keywords:
Race and Ethnicity, labor discrimination, Colombia
Abstract
This paper examines the presence of wage gaps by race in Colombia. Information contained in the country's 2003 Living Standard Survey indicates that Afro-Colombian minorities -specifically, working age males- earn on average 6.4% less hourly wages than their non-Afro counterparts. In order to explain these differences standard Mincerian equations are estimated. No statistical evidence of race discrimination in wages is obtained when controls for education levels, age, experience, geographical location, informality and family size are included in the model. The most important statistically significant determinant of wages obtained was education levels. The results however do not rule out the existence of discriminatory practices in earlier stages in life that determine the quantity and quality of education as well as participation in the labor market. This result is corroborated by estimation of poverty and race. In this context, public policies that reduced differences in human capital endowments amongst Colombians of different ethnicities will contribute to decrease racial wage gaps.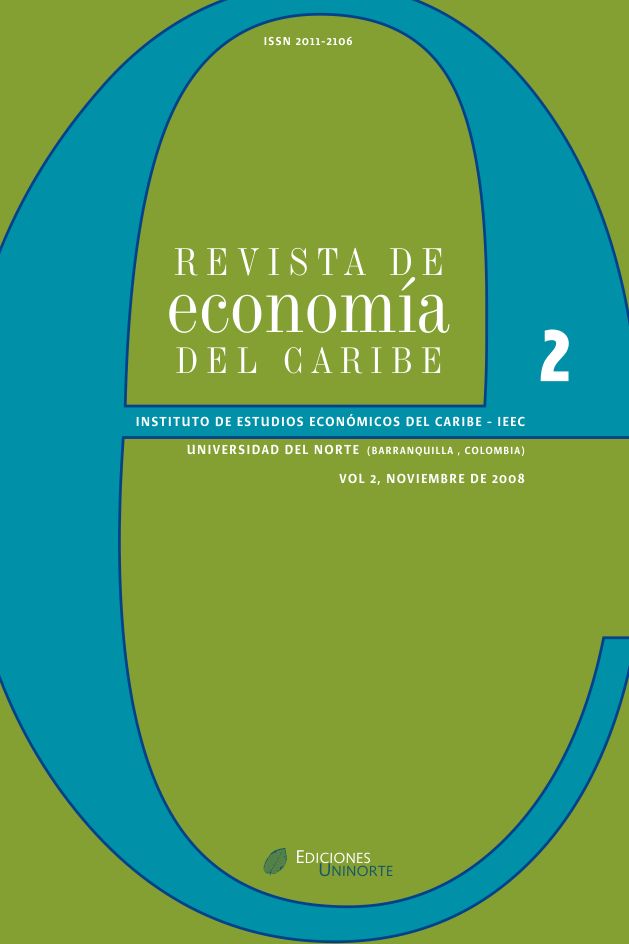 Downloads
License
I, ____________________________________________, author of the work and/ or article, adult, residing in the city of _________________, bearing the Identity Card/Passport n.° ______________________, issued in _______________________, in command of his/her/their physical and mental faculties, party hereinafter referred to as AUTHOR, signs the following authorization so the reproduction, publication, communication and distribution of the work can be done, under the following terms:
1. That, regardless of existing legal regulations due to the relationship of the parties to this contract, and any other existing legal presumption, the parties agree that the AUTHOR authorizes the Universidad del Norte, with the purpose of reproduce, publish, communicate and distribute the material called in the Revista de Economía del Caribe.
2. That such authorization apply to the copyright of the work, by any means, known or to be known, the public communication of the work, and the distribution of the work, directly or by third parties, purely educational purposes.
3. The AUTHOR undertakes to inform and declare the existence of this authorization and to preserve the right of the journal Revista de Economía del Caribe to the first publication of the work.
4. The AUTHOR states that the article is original and his/her/their exclusive creation, there being no impediment of any kind for the authorization he/she/they is/are giving, responding thereto by any action: claim, plagiarism or any other type of complaint that might arise about.
5. That such authorization is granted for free.
6. The moral rights of the author on the article correspond exclusively to the AUTHOR, in virtue of which, the Universidad del Norte agrees to expressly and rigorously recognize and respect them.