Entre el espíritu público y el discurso político: las estrategias de comunicación de la pandemia en el canal Telegram de Jair Bolsonaro
Palabras clave:
Bolsonaro, Telegram, Populismo, Comunicación pública y gubernamental, Comunicación política
Resumen
Este artículo analiza la comunicación realizada por el presidente brasileño, Jair Bolsonaro, sobre el covid-19. El corpus del estudio se circunscribe a los mensajes publicados por el político en Telegram, durante sus primeros 100 días en la plataforma. Analizamos el fenómeno a partir de los conceptos de comunicación pública y gubernamental (Duarte, 2007; Brandão, 2007; Oliveira, 2013) y comunicación política (Gerstlé, 2005; Freeman, 2019), confrontándolos con comprensiones de populismo (Waisbord, 2018; 2020; Laclau, 2005; Jagers & Walgrave, 2007 E Innerarity, 2015). El estudio utiliza como metodología el análisis de contenido (Benoit, 2011). Los resultados muestran que Bolsonaro no produce comunicación pública o gubernamental, sino comunicación política desde su canal en la plataforma, que se utiliza para establecer una disputa narrativa para la construcción de significados de la población sobre la crisis sanitaria.
Citas
Benkler, Y., Faris, R., & Roberts, H. (2018). Network propaganda: Manipulation, disinformation, and radicalization in American politics. Oxford University Press.
Benoit, W. L. (2010). Content Analysis in Political Communication. Sourcebook for Political Communication Research: Methods, Measures, and Analytical Techniques, 268.
Brandão, E. (1998, September). Comunicação pública. In Congresso Brasileiro de Ciências da Comunicação.
Craig, R. T. (1999). Communication theory as a field. Communication theory, 9(2), 119-161.
Duarte, J. (2007). Comunicação pública. São Paulo: Atlas, 47-58.
Freeman, R. (2019). Meeting, talk and text: policy and politics in practice. Policy & Politics, 47(2), 371-387.
Gerstlé, J. (2005). Comunicación Política, La. Good Year Books.
Gonçalves, L. P., & Neto, O. C. (2020). O Fascismo em Camisas Verdes: do integralismo ao neointegralismo. Editora FGV.
Innerarity, D. (2015). La política en tiempos de indignación. Barcelona: Galaxia Gutenberg.
Jagers, J. and Walgrave, S. (2007), 'Populism as political communication style:
An empirical study of political parties' discourse in Belgium', European
Journal of Political Research, 46: 3, pp. 319–45.
Kraus, R. (2018). 2018 was the year we (sort of) cleaned up the internet. https://mashable.com/article/deplatforming-alex-jones-2018/?europe=true
Laclau, E. (2005), La razón populista/On populist reason, Buenos Aires: Fondo de
Cultura Económica.
Nobari, A. D., Sarraf, M. H. K. M., Neshati, M., & Daneshvar, F. E. (2021). Characteristics of viral messages on Telegram; The world's largest hybrid public and private messenger. Expert Systems with Applications, 168, 114303.
Oliveira, M. J. D. C. (2012). Comunicação organizacional e comunicação pública. Comunicação pública: interlocuções, interlocutores e perspectivas. São Paulo–SP, ECA-USP/CECORP.
Recuero, R. (2009). Redes sociais na internet. Porto Alegre: Sulina. Coleção Cibercultura, 191.
Rogers, R. (2020). Deplatforming: Following extreme Internet celebrities to Telegram and alternative social media. European Journal of Communication, 35(3), 213-229. https://doi.org/10.1177/0267323120922066
Urman, A., & Katz, S. (2022). What they do in the shadows: examining the far-right networks on Telegram. Information, communication & society, 25(7), 904-923.
Waisbord, S. (2018). The elective affinity between post-truth communication and populist politics. Communication Research and Practice, 4(1), 17-34. https://doi.org/10.1080/22041451.2018.1428928
Waisbord, S. (2020). De la simplicidad a la complejidad: lecciones inconclusas de la pandemia para comunicación y salud pública. Revista Latinoamericana de Ciencias de la Comunicación, 19(35).
World Health Organization (WHO) et al. (2020) Managing the COVID-19 infodemic: Promoting healthy behaviours and mitigating the harm from misinformation and disinformation. Disponível em: <https://www.who.int/news/item/23-09-2020-managing-the-covid-19-infodemic-promoting-healthy-behaviours-and-mitigating-the-harm-from-misinformation-and-disinformation> Acesso em: 04 jun. 2021.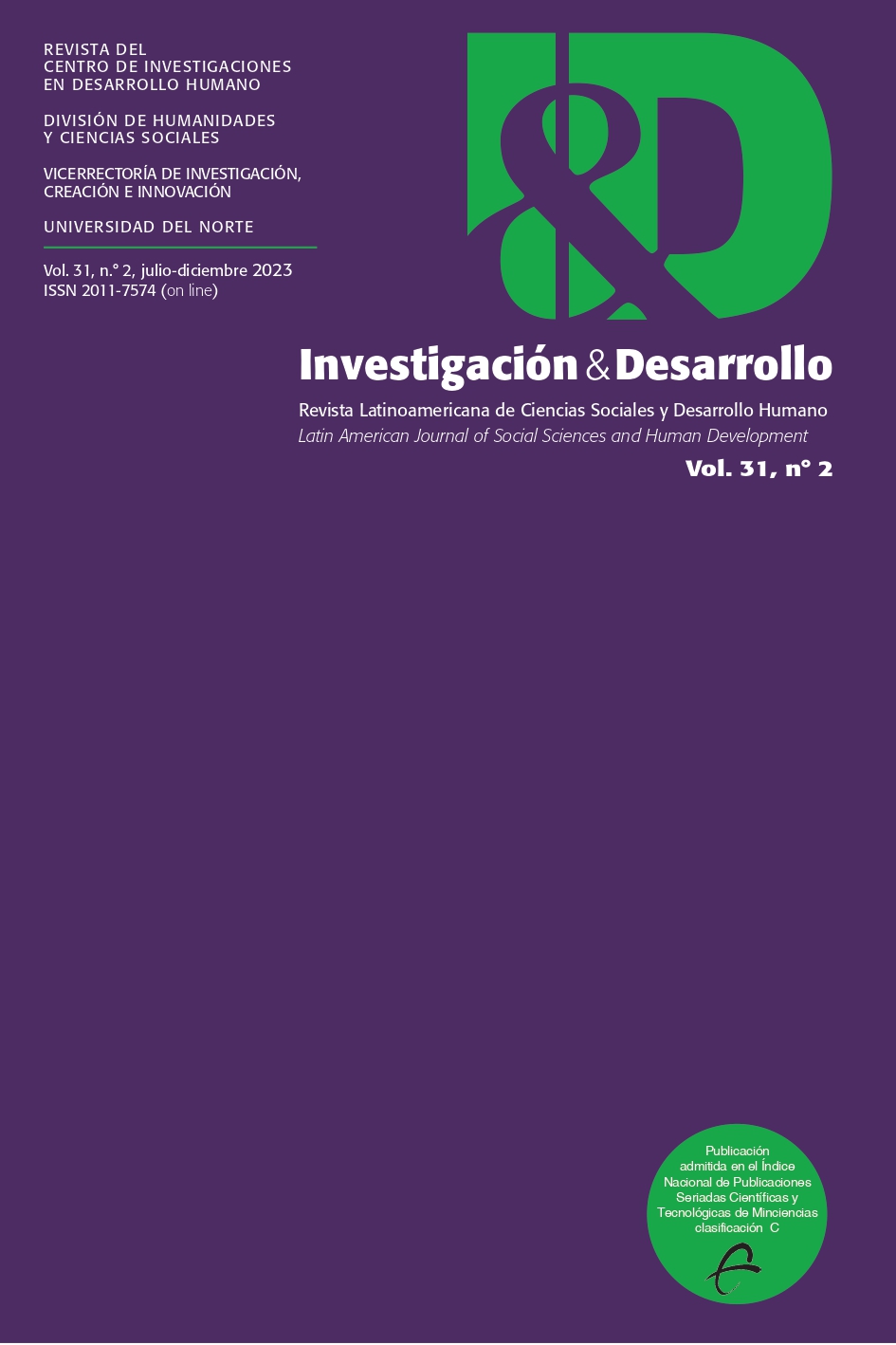 Descargas
Cómo citar
Lima de Sousa, F. S., & Vidal Nunes, M. (2023). Entre el espíritu público y el discurso político: las estrategias de comunicación de la pandemia en el canal Telegram de Jair Bolsonaro. Investigación &Amp; Desarrollo, 31(2), 64–91. https://doi.org/10.14482/INDES.31.02.001.528
Sección
Artículos de Investigación / Research Articles
Licencia
Derechos de autor 2023 FRANCISCO SÉRGIO LIMA DE SOUSA, Márcia Vidal
Esta obra está bajo una licencia internacional Creative Commons Atribución-NoComercial 4.0.
Investigación & Desarrollo provee acceso libre a su contenido a quienes se registren en la página web bajo el principio de que hacer disponible gratuitamente investigación al público, apoya a un mayor intercambio de conocimiento global.  
Se ejecuta bajo Licencia Creative Commons CC BY-NC 4.0.
Ni el envío, ni el procesamiento de los artículos implica costos para los autores o instituciones de las cuales hacen parte.